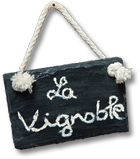 It's impossible to talk about Touraine without mentioning its wines.
The decoration of the "Vignoble" guest room will immerse you in our world-renowned wine-making history.
This guest room has a double bed and en-suite bathroom with shower and toilet.
Take the time-worn stone steps outside to get to this room.
Rates :
1 person : 58 Euros per night
2 people : 64 Euros per night
(including breakfast)